Commentary
Are you ready for the EU Battery Regulation?
Effective on August 17, 2023, the new EU Battery Regulation establishes sustainability and safety requirements for batteries, simultaneously imposing due diligence and reporting obligations on companies introducing batteries to the EU market. In line with the European Green Deal's goal of achieving climate neutrality by 2050, the Regulation's core objective is to reduce the environmental impact of batteries and foster a secure and sustainable battery value chain, encompassing all battery categories within the EU market.
17 August 2023
Entry into force


15 February 2025
Art. 7 Carbon Footprint Declaration
18 August 2025
Art. 47-53 Supply Chain Due Diligence Obligations
18 February 2027
Art. 77 and '78
Battery Passport
18 August 2028
Art. 8
Recycled Content
The key requirements for economic operators placing batteries on the EU market include:
Establish a

due diligence management system

to address human rights and environmental risks in the battery supply chain.

Account for and declare

carbon footprint

at different stages of the battery life cycle.

Account for and declare

recycled content

, including meeting increasing targets of using recycled content.

Label batteries with a QR code that provides access to a

battery product passport

, including information regarding due diligence, carbon footprint and recycled content.
Practical Steps for Companies Along the Battery Value Chain
Significantly expanding the existing rules on safety, sustainability and due diligence, the EU Battery Regulation is expected to have a substantial impact on the market within and outside the EU. Large OEMs from the automotive, renewables and electronics sectors, battery cell and component producers, as well as miners, refiners and recycling companies, will be among those affected by the new requirements and can already take the initial steps to prepare for the implementation.
Downstream:
Enhance due diligence and supplier requirements to meet regulatory standards;

Collect data to identify and address environmental and human rights risks;

Establish traceability for battery minerals, collaborating with suppliers for transparency;

Publicly disclose due diligence information and engage with standard-setting bodies.
Upstream:
Implement robust due diligence management system in line with OECD Due Diligence Guidance as a minimum;

Prepare for stricter requirements on minerals extraction and processing;

Adhere to minerals due diligence and responsible mining standards;

Share due diligence and carbon footprint data with downstream partners.
How Can RCS Global Help?
As a proven leader in responsible battery raw material sourcing, RCS actively collaborates with key stakeholders to forecast the EU Battery Regulation's effects on businesses and the market. We provide guidance to industry leaders in automotive, battery manufacturing, energy, and mining sectors, assisting them in aligning their systems and objectives to surpass the EU Battery Regulation's requirements through a range of services and activities.
Responsible Sourcing Strategy and Governance Advisory
Gap Analysis of company policy, processes and systems against the requirements of the Regulation

Development of comprehensive Due Dilligence Management Systems aligned with internationally recognised good practice frameworks

Staff and supplier training on ESG Risk Management

Mapping and auditing companies battery raw material supply chain

Assessment and mitigation of Social and Environment Risks in the supply chain

Meeting disclosure and reporting requirements

Additionally, RCS Global is developing the Claritas Battery Passport upon the established supply chain mapping, visualisation, and data management digital tool, Vine. With over 5000 suppliers in the database and trusted by over 10 leading OEMs and battery producers, Vine has delivered verified chain of custody and supplier-to-supplier traceability for over 5 years and forms the basis of RCS Global's battery passport solution. 
Learn more about Claritas here.
"The EU Battery Regulation requires automotive OEMs and battery manufacturers to have a comprehensive understanding of their supply chains, to identify and manage ESG risks and GHG emissions effectively and pursue an ambitious battery passport."

Harrison Mitchell, Chief Strategy Officer and Founder.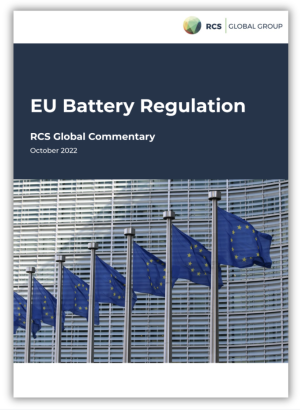 Want to learn more about the EU Battery Regulation?
Get in touch and get full access to a comprehensive 20-page analysis and commentary on the EU Battery Regulation written by our responsible sourcing experts.