News:
RCS Global, Re|Source, and Global Battery Alliance profile first successful battery passport pilot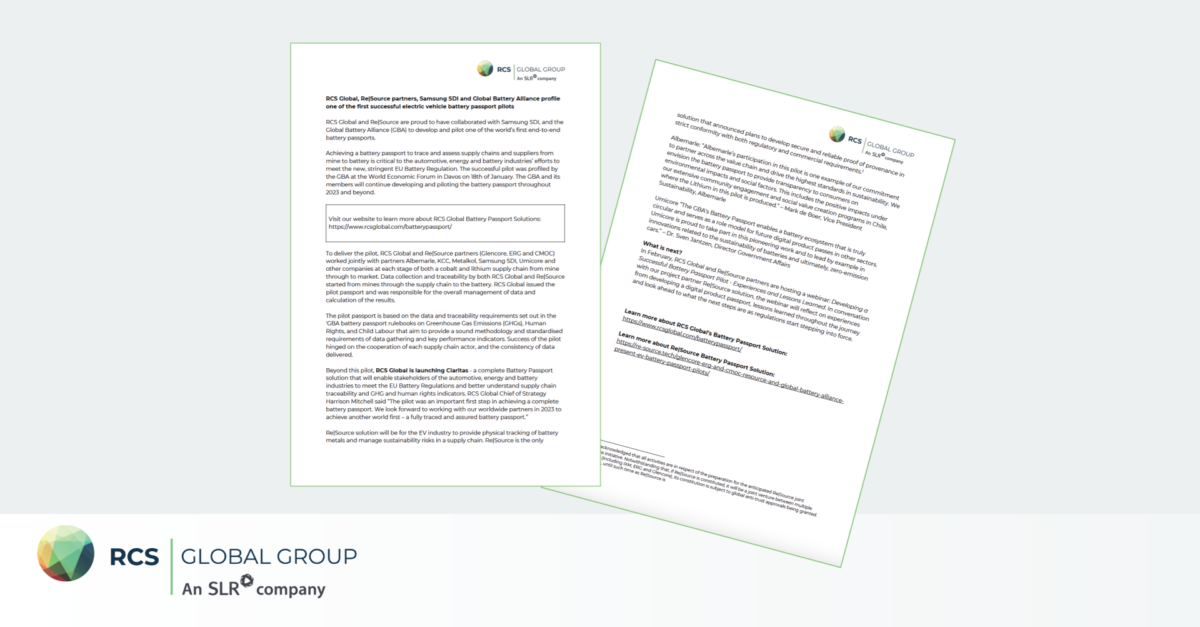 18 January 2023. RCS Global and Re|Source are proud to have collaborated Samsung SDI and the Global Battery Alliance (GBA) to develop and pilot one of the world's first end-to-end battery passports. 
Achieving a battery passport to trace and assess supply chains and suppliers from mine to battery is critical to the automotive, energy and battery industries' efforts to meet the new, stringent EU Battery Regulation. The successful pilot was profiled by the GBA at the World Economic Forum in Davos on 18th of January. The GBA and its members will continue developing and piloting the battery passport throughout 2023 and beyond.
To deliver the pilot, RCS Global and Re|Source partners (Glencore, ERG and CMOC) worked jointly with partners Albemarle, KCC, Metalkol, Samsung SDI, Umicore and other companies at each stage of both a cobalt and lithium supply chain from mine through to market. Data collection and traceability by both RCS Global and Re|Source started from mines through the supply chain to the battery. RCS Global issued the pilot passport and was responsible for the overall management of data and calculation of the results.
The pilot passport is based on the data and traceability requirements set out in the 'GBA battery passport rulebooks on Greenhouse Gas Emissions (GHGs), Human Rights, and Child Labour that aim to provide a sound methodology and standardised requirements of data gathering and key performance indicators. Success of the pilot hinged on the cooperation of each supply chain actor, and the consistency of data delivered.
Beyond this pilot, RCS Global is launching Claritas – a complete Battery Passport solution that will enable stakeholders of the automotive, energy and battery industries to meet the EU Battery Regulations and better understand supply chain traceability and GHG and human rights indicators. RCS Global Chief of Strategy Harrison Mitchell said "The pilot was an important first step in achieving a complete battery passport. We look forward to working with our worldwide partners in 2023 to achieve another world first – a fully traced and assured battery passport."
Re|Source solution will be for the EV industry to provide physical tracking of battery metals and manage sustainability risks in a supply chain. Re|Source is the only solution that announced plans to develop secure and reliable proof of provenance in strict conformity with both regulatory and commercial requirements.1
"Albemarle's participation in this pilot is one example of our commitment to partner across the value chain and drive the highest standards in sustainability. We envision the battery passport to provide transparency to consumers on environmental impacts and social factors. This includes the positive impacts under our extensive community engagement and social value creation programs in Chile, where the Lithium in this pilot is produced."

Mark de Boer, Vice President Sustainability, Albemarle
"The GBA's Battery Passport enables a battery ecosystem that is truly circular and serves as a role model for future digital product passes in other sectors. Umicore is proud to take part in this pioneering work and to lead by example in innovations related to the sustainability of batteries and ultimately, zero-emission cars."

Dr. Sven Jantzen, Director Government Affairs
What is next?
In February, RCS Global and Re|Source partners are hosting a webinar: Developing a Successful Battery Passport Pilot – Experiences and Lessons Learned. In conversation with our project partner Re|Source solution, the webinar will reflect on experiences from developing a digital product passport, lessons learned throughout the journey and look ahead to what the next steps are as regulations start stepping into force.
Learn more about RCS Global's Battery Passport Solution:      Learn more
Learn more about Re|Source Battery Passport Solution:          Learn more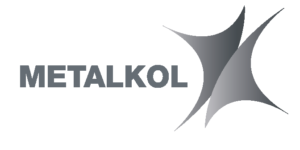 ---
1. It is acknowledged that all activities are in respect of the preparation for the anticipated Re|Source joint venture initiative. Notwithstanding that, if Re|Source is constituted, it will be a joint venture between multiple parties (including IXM, ERG and Glencore), its constitution is subject to global anti-trust approvals being granted. As such, until such time as Re|Source is constituted, the joint venture partners in Re|Source act individually only in relation to Re|Source.