Webinar:
How Better Mining drives digital product traceability and due diligence uptake in the ASM sector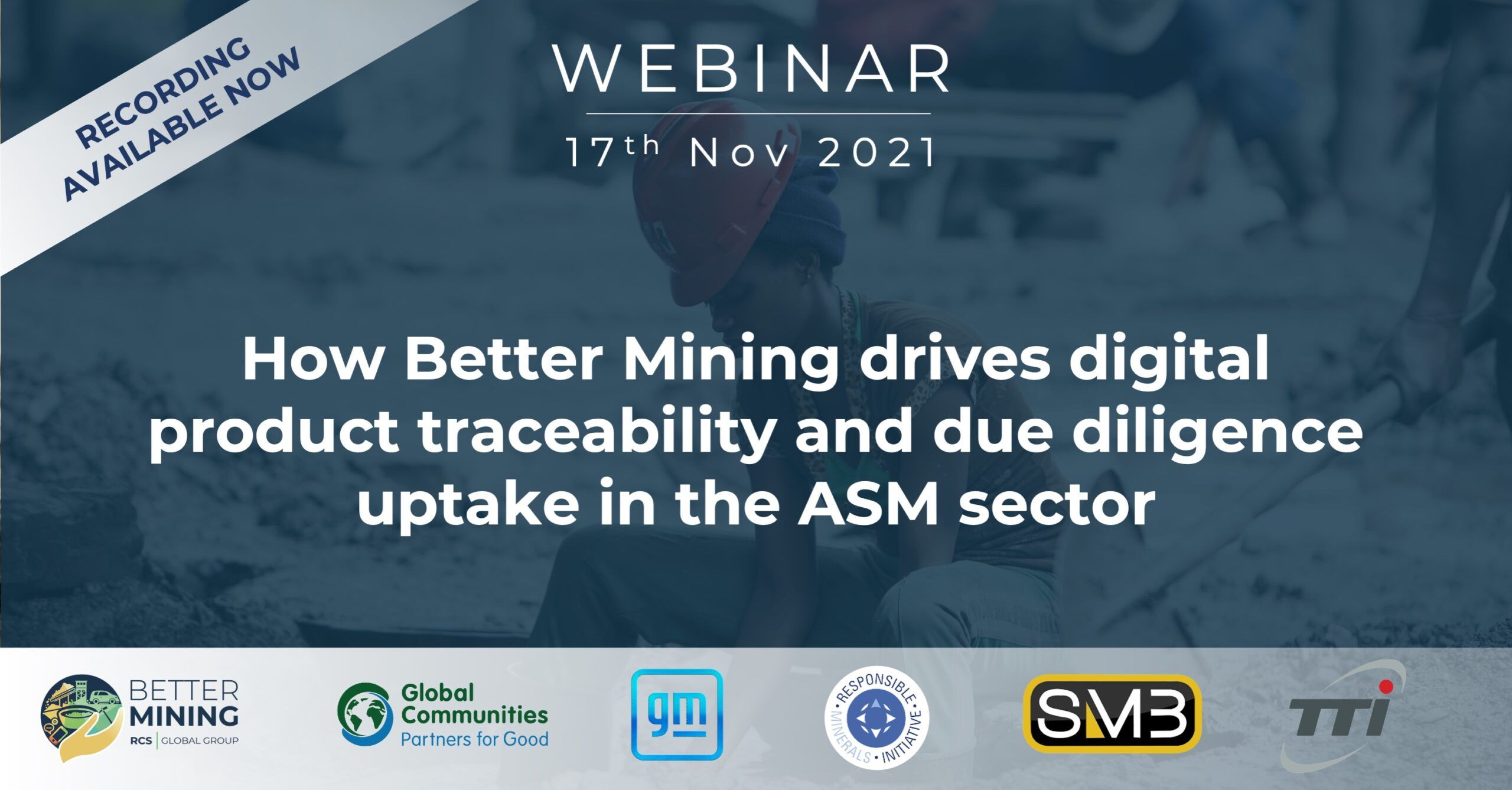 Better Mining held a successful webinar in October 2021 on "Delivering measurable improvement in the ASM sector", which focussed on our corrective actions process and featured speakers from UNICEF, Intel, Volvo Cars, CMOC – the world's second-largest cobalt miner, the Responsible Business Alliance and GIZ.
We followed up with another successful webinar in November 2021, this time focussing on "How Better Mining drives digital product traceability and due diligence uptake in the ASM sector". Speakers included General Motors, Société Minière de Bisunzu (SMB – Africa's largest tantalum mine), Techtronic Industries, Global Communities, and the Responsible Minerals Initiative (RMI).
November 17th, 2021. With a central focus on digital product traceability and due diligence, the webinar showed the traceability journey from pit to smelter/refiner (SOR), provided updates from the ground with first-hand insights from Better Mining's 2021 data report, and gave insights into RCS Global's ongoing digital product traceability implementation in cobalt, gold and the 3Ts, connecting the physical with the digital in practice.
The RMI and RCS Global are fundraising to support the consolidation and scaling of Better Mining in 2022.
The goal is to support the 40+ ASM sites in 3TG, cobalt, and copper in 2022. Join us!
Contact to become a supporter:
RCS Global Group: Nicholas Garrett, [email protected]
Responsible Minerals Initiative (RMI): Alex Cech, [email protected]
Below is a short summary of each speaker session:
Alexandra Cech from the Responsible Minerals Initiative provided an industry context and the critical importance of Better Mining to the downstream and midstream industries' responsible sourcing assurance efforts, including RMAP. Alex explained concisely why the RMI partners with Better Mining's mineral agnostic program to drive uptake of due diligence practices in the upstream.
Eugénie Valentin from RCS Global Group shared insights into the Better Mining methodology, key insights from the group's 2021 data report, and a success story from the Zahabu Safi Gold Supply Chain, where Better Mining successfully helped remove a military group from an ASM site. Eugenie gave insight into the implementation of the program in 3TG and the OECD risks and ESG risks that the program addresses. 
Tim Rosenkranz from RCS Global followed with insights into the value of digital traceability in the ASM sector and a technical explanation of RCS Global's successful digital traceability implementation in the ASM sector. Tim explained the steps in the traceability process from mine site through export to smelter and how traceability relates to international regulations, strengthens Chain of Custody, and provides market access for responsible ASM producers while giving assurance to international buyers.
---
The webinar then turned the focus towards our partners from SBM and Global Communities
Loïc Bonduelle from SMB shared why SBM works closely with Better Mining in areas like implementation of risk monitoring and digital traceability. Loïc provided insights into the key successes of the program at SMB's site and highlighted the importance of the training and the availability of on the ground personnel that the Better Mining program provides on an ongoing basis.
Nikki Duncan from Global Communities then shared insights into the Zahabu Safi Clean Gold Project that aims to create sustainable commercially viable, responsibly sourced ASM gold supply chain originating from eastern DRC. Nikki gave insights into Global Communities work with Better Mining and shared how Better Mining's combination of digital traceability and due diligence has been critical for the project's success.
Julia Huber from RCS Global Group gave insights into cobalt traceability implementation via RCS TRACE, digital traceability, on a selection of Better Mining cobalt sites in the DRC. Julia gave an overview of the project's progress in 2021 and plans for 2022. She further shared some of the key outcomes of the pilot such as improved livelihoods and strengthened chain of custody that supports market access. One of the pilots is implemented with the support of the US Department of Labor.
---
Finally, the webinar turned to two Better Mining partners from the downstream, General Motors and Techtronic Industries
Brian Hudson from General Motors shared how Better Mining aligns with General Motors' ESG strategy and supports the goal of building sustainable supply chains and going beyond compliance. Brian highlighted how Better Mining has given General Motors the ability to access data, identify upstream risks, and support risk mitigation through the Better Mining corrective action plan process.
Emmanuelle Prono from Techtronic Industries, TTI, rounded off the speaker session by sharing Techtronic Industries' journey in responsible sourcing of minerals and how Better Mining has been a critical support in pursuing and reaching their ESG goals. Emmanuelle highlighted the importance of Better Mining enabling them to go beyond the smelters in their supply chain to ensure due diligence extends to ASM mine sites.
We are very thankful to all our speakers for their wonderful contributions!