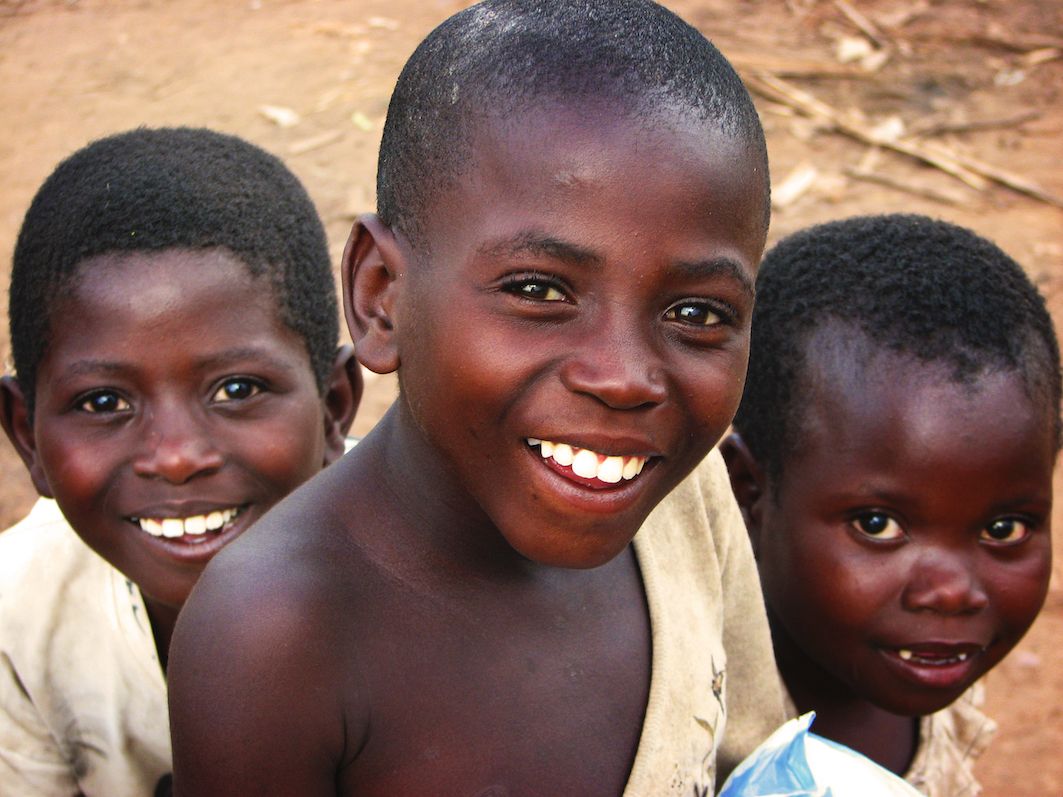 How tech can drive ASM improvements from cobalt to mica
Photo ©Nicholas Garrett, 2019
The decision allowing artisanal and small-scale mined (ASM) metal to be traded on the London Metal Exchange (LME) confirms that ASM is here to stay. The sector needs to be supported to improve conditions and reduce key risks, like child labour. Mine monitoring technology is an indispensable tool to achieve this objective.
November 2020. The announcement that the LME will accept metals produced by artisanal and small-scale miners (ASM) is a potentially market defining move, not least in cobalt, copper and tin. Many buyers on the LME may see this as a potential risk. However, it is simply the latest sign of the direction of travel in ASM where the market is leaning toward accepting and formalising artisanal mining, rather than persevering with attempts to cut it out of global supply chains. This not only affects approaches used in LME traded metals, but also in other key ASM mined materials, like mica.
In this context, it is important to remember that almost all OEMs have had ASM materials in their supply chains for years. Both unknowingly, as a result of not having mapped their supply chains down to the mines, and knowingly, for example, in the case of tantalum where the entire production from the African continent, which makes up a significant % of global production, continues to be produced by the ASM sector.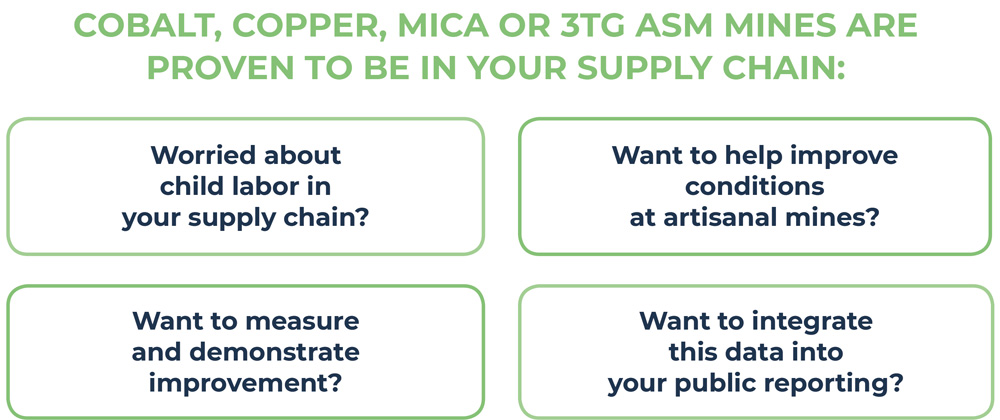 Part of the LME's decision to accept ASM was certainly down to key campaigning NGOs who rightly underlined the economic impact on millions of people who rely on ASM for an income. But the decision also reflects a wider realisation that there is a growing move towards better mine monitoring and improvement of artisanal mining in alignment with standard criteria provided by the OECD, the Responsible Minerals Initiative (RMI) and CRAFT. The application of these framework and standard criteria provide a level of assurance that makes ASM commodities marketable.
Up until recently, mine site monitoring on ASM mines has been considered very challenging. In some instances, monitoring existed conceptually but was not actually implemented at all; in others the process would be done with a clipboard and pen(cil), with logbooks being sent manually to industry bodies who would then, often months later, make the results available to their membership.
Such a paper-based system is little more than a retrospective warning element, flagging incidents or risks long after they have happened. The process itself is also vulnerable to human error and corruption. For EV and tech buyers under pressure to prove the inputs in their EV batteries and devices are ethically sourced, this highly porous semblance of assurance simply isn't good enough.
But this situation is changing. Rather than take flight at the first signs of ASM in their supply chains, a growing number of global brands are slowly beginning to accept the fact that it is more sensible to engage with ASM rather than continually trying to find new ways of avoiding it.
And as the demand for engagement is increasing, mine site monitoring technology has proven its worth enabling risk information flow, analysis and demonstrable impact.
Through programs like RCS Global's Better Mining platform, smartphones are disrupting the paper-based "moment-in-time" mine monitoring model and offer brands a way of keeping ahead of potential ASM risks and avoiding the kind of reputational disasters several brands have suffered recently.
Volvo Cars is the most recent company embracing the Better Mining approach as an essential tool in mine to market responsible sourcing, joining other leading downstream brands. Better Mining works with an ASM mine, assesses the conditions at the mine, before placing trained field agents on the mine who permanently monitor for risks and impacts, armed with a smartphone-based app.
On the basis of the data, vetted by mining and risk experts, monthly corrective action plans are issued to guide risk mitigation and the improvement of conditions. Sites are then permanently monitored to ensure the prescribed corrective actions are indeed being taken and to flag any new risks or incidents that might arise. Data is pushed to risk management and impact progress reports, offering an up to date picture to all companies within the supply chain of either one, or a whole host of ASM mine sites.
Better Mining process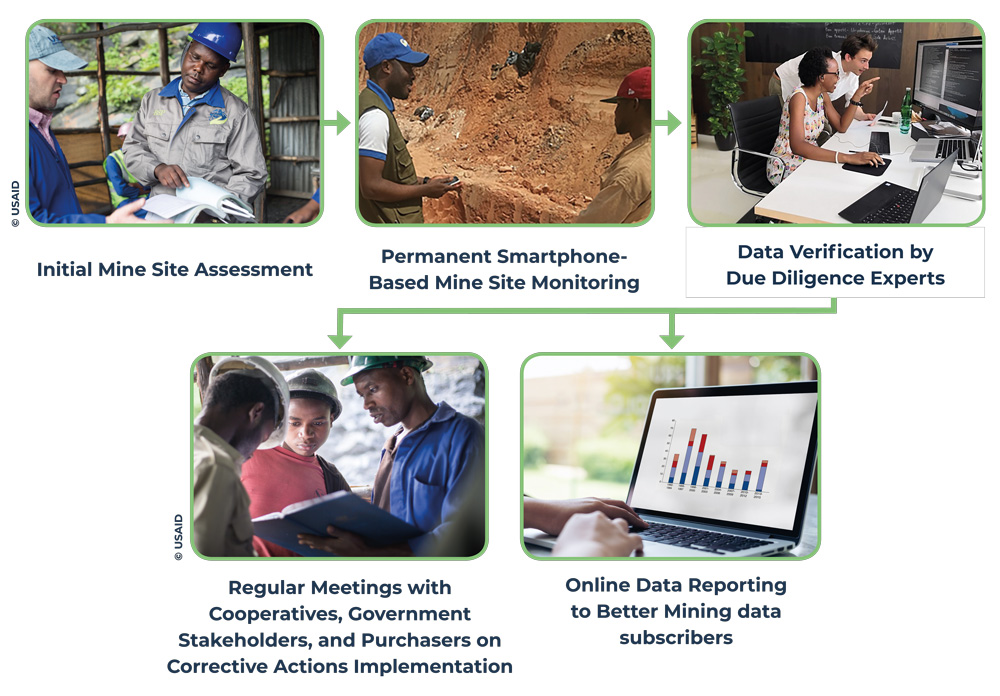 The Responsible Minerals Initiative's cobalt refiner supply chain due diligence standard, which is currently being piloted, underscores the need for ASM mine site monitoring as a required part of upstream due diligence, requiring companies that source from ASM sites to ensure that "There is an ongoing monitoring system in place that ensures the timely and effective reporting of incidents at mine level to relevant supply chain actors including the auditee."
After a two-million-dollar investment and two years of testing, the Better Mining approach to monitoring is now used across multiple industries, including in copper, cobalt, tantalum, tin and tungsten.
Importantly, the approach is very well suited for the needs of the mica industry, where ASM is an important contributor to global production. A hotbed of ESG risks, resolving the mica challenge will require ASM mine site monitoring, but crucially also engagement and collaborative problem solving with the Indian Government, the Responsible Mica Initiative and the private sector.
In another sector – gold – Better Mining already has played a key role in facilitating major impact with a consortium achieving the first conflict-free ASM gold supply chain from the DRC to the US in 2018.
For the ASM part of the mining sector, which employs millions and is very much here to stay, there is a growing acceptance that the future of due diligence is technology based.
To show the power of big data in artisanal mining RCS Global researchers assessed 12 months of data generated from five sites in the DRC and Rwanda where their Better Mining monitoring system is in place. The results were revealing, not least in showing that monitoring in and of itself works in improving conditions. Since January 2019, deployment of the Better Mining program and the implementation of its corrective actions plans monitoring process, has led to a reduction in overall risk levels and an improvement of conditions at 4 out of the 5 mine sites in the sample. Particularly revealing is that on-site stakeholders have been most successful in progressing corrective actions related to Human Rights. 67% of total CAPs registered since January 2019 in that category have been implemented (4 out of 6). That's measurable, demonstrable improvement.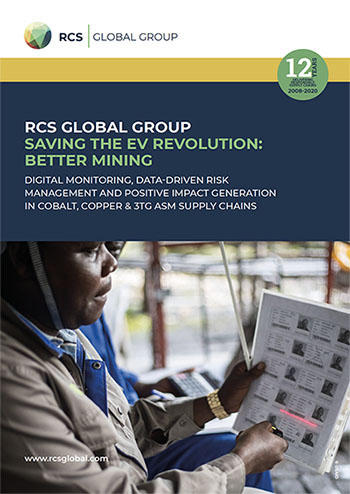 Corporate and philanthropic money is still more likely to flow to individual projects at individual mines. A school, a health clinic, a consignment of mine safety equipment. These are not necessarily bad investments. But they don't deliver any systematic improvements to conditions at ASM mines or deliver the necessary assurance data to make these minerals and metals acceptable to the market.
Where corporates do invest in ASM mine improvement, this is positive as investment is desperately needed. However, to affect any systemic impact, pouring millions into a single project undermines the replicability and scalability of the approach.
While it is positive that different approaches are being trialled, these should by no means be mutually exclusive. Irrespective of philosophy, budgets would be well spent bringing all ASM mines online where they are assessed, improved, and monitored. Scaling and applying the same method across each mine. This is supported by data, which shows that significant improvements, particularly under the Human Rights risk category can be achieved without major capital expenditure.
This approach is a win-win for global brands, trading exchanges, and artisanal miners alike. For downstream companies a system based on assessment, improvement and monitoring enables them to simultaneously improve their supply chains while having a positive impact in addressing issues like child labour. For exchanges and traders, it delivers the level of assurance needed to trade 'ethical metals.' And for ASM mines, such a system not only helps improve everyday conditions, it also ensures access to global markets is not threatened by buyers worried about ethical production.
There is now a two-year window until the LME's responsible sourcing requirements come in to affect. For the decision to accept ASM metals to be more than a symbolic gesture, a wide-scale approach to proving providing compliance needs to be established. The excuse that ASM is too hard to govern and improve is no longer acceptable. Sites can be reached, tech can now reach the final mile even in the most complex mining locations. The market should back a data revolution in ASM, and help these communities benefit from global commodities markets just as large-scale commercial miners do.
---