RCS Primer: The Amnesty International Report on Cobalt Sourcing
This week Amnesty International published the follow-up to its 2016 report on cobalt sourcing. The original report was a major landmark in public scrutiny of global brands and their cobalt supply chains. It also marked the beginning of what has been a steady rise in interest in the issue from the media, regulators and consumers.
This latest report  – 'Time to Recharge" – revisits the original research and offers a progress update on the companies implicated in the first report.
If indeed true, RCS Global is concerned with the lack of reported progress on behalf of downstream companies who are accused of failing to act fast enough and comprehensively enough or, in the majority of cases, of not acting at all.
However, beyond the rhetoric, there is a recognition of improvements at the industry and individual company level. Of the main sectors covered in the report it is the consumer technology sector which has demonstrated most progress. RCS Global is happy to be recognized as part of these efforts in the report.
The report also highlights progress being made on driving consensus and clarity on how companies must respond to the challenge of responsible cobalt, citing the emergence of global standards and effective responses.
Finally, it must also be noted that while commendable, the report is only a snapshot of industry responses. The research is based on surveys of only 29 companies and while the downstream survey cohort can be seen as largely representative, only one company from the midstream is surveyed while there are in fact several other buyers of cobalt in the midstream apart from Huayou cobalt – a fact the report acknowledges.
Overall RCS Global believes the report is a constructive and helpful barometer of where industry currently stands in its collective response to delivering responsible cobalt. It also acts as a warning for companies yet to acknowledge or properly address the issue. But most importantly, it serves as a signpost for what companies can do practically to improve their approach.
A note on RCS Global in the Amnesty International Report
RCS Global is mentioned several times in the report in the context of the support we have provided and can provide for companies looking to improve their responsible sourcing of cobalt. Our work with standard setting bodies including the CCCCMC is also noted. These references have been included entirely independently of any interaction or request from RCS Global but we are happy to have been cited in this way.
We firmly believe that with appropriate, coherent and coordinated action across the downstream and upstream, cobalt can be sourced responsibly and deliver benefits for the mining communities in DR Congo. We are proud to be playing a role in achieving this goal.
With that in mind, we have produced this brief primer for businesses, outlining what you need to know from the report and how you can respond to rising expectations from campaigners, industry groups and regulators. We would also encourage you to read the full report.
If you would like to speak with RCS Global about how we can support your business in mapping and understanding its cobalt supply chain and proving good practice please contact us.
If you would like to learn more about our partnership with the Cobalt Institute, supporting its continuing work on sustainable cobalt please click here.
---
RCS Global is working with several global brands to improve their responsible sourcing in cobalt. Supply chain mapping is the first step in this process and provides the key foundation for proving good practice.
And with our support, a number of downstream companies have now built on this base and established a market leading position in sustainable minerals and metals sourcing.
We can support your business with:
Supply chain mapping
Responsible sourcing audits
Due diligence management systems
Design of chain of custody systems, including with the use of blockchain
Read about RCS Global Auditing. 
Read about RCS Global Advisory. 
---
Key observations from the report:
Downstream:
Of the 28 downstream companies Amnesty International analysed, 26 had failed to map their supply chain at all, even to smelter or refiner level.

We find this particularly disappointing as while full supply chain mapping to mine site remains challenging, it is now eminently achievable for a downstream company to map its cobalt supply chain to refiner/smelter stage and assess suppliers against globally agreed standards as defined by the OECD and CCCMC [see more below].

Almost half (43%) of the businesses surveyed for the report are failing to demonstrate even a "minimal" degree of compliance with international due diligence standards.
However, a third of the downstream companies surveyed were seen as doing slightly better – showing "minimal" demonstration of cobalt supply chain due diligence. The report states that these companies "typically may have begun looking into whether cobalt from the DRC is entering their supply chain, but they have still not identified all 
of their smelters and refiners or shown that they are conducting robust risk assessments."
Midstream:
In the midstream, Huayou Cobalt is praised for its corrective action since 2016 and its willingness to acknowledge and report on its response to the cobalt challenge publicly
Its efforts to map its cobalt supplies are specifically commended – – a process RCS Global has supported the company on. But the report does also highlight need for further, on-going improvement.
It is perhaps unfortunate that two years on from the initial study no further refiners or smelters are investigated in the report, and the authors do acknowledge that the wider refiner and smelter market needs to act on its responsible sourcing practice now.
"Nearly two years on, some of the richest and most powerful companies in the world are still making excuses for not investigating their supply chains.
      "This is a crucial moment for change. As demand for rechargeable batteries grows, companies have a responsibility to prove that they are not profiting from the misery of miners working in terrible conditions in the DRC." 

Amnesty International 'Time to Recharge' November 2017.
Growing awareness of the challenge but this is yet to be translated into action
The report states that through the proliferation of industry initiatives and the number of companies joining such schemes, it is clear that downstream businesses are willing to acknowledge issues with responsible cobalt sourcing. This was highlighted as positive progress since 2016.
But while membership of such schemes is encouraging Amnesty International claims that this does not represent good practice at the company level. It states that companies need to undertake action, not simply sign up to groups who themselves may have a responsible sourcing policy or approach.
"More are now willing to admit there are serious problems that can no longer be ignored. However, awareness and commitments have not translated into action across the global supply chain."
Amnesty International 'Time to Recharge' November 2017.  
A consensus of standards and expectations is emerging
The report commended the growth in debate around responsible sourcing in cobalt and the growing consensus around key industry standards.
While it highlights the work of Responsible Minerals Initiative (RMI), the Responsible Battery Alliance (RBA) and the Responsible Cobalt Initiative, it is the work of the OECD and the CCCCMC which receives the most attention. The report focusses on the emergence of the two key global standards against which company action on responsible sourcing is now judged:

OECD's Due Diligence on OECD Due Diligence Guidance for Responsible Supply Chains of Minerals from Conflict-Affected and High-Risk Areas
China Chamber of Commerce of Metals, Minerals and Chemicals Importers and Exporters (CCCMC) Due Diligence Guidelines for Responsible Mineral Supply Chains

The emergence of clear and consistent standards has also been matched by the establishment of a clear process through which companies can prove good practice. While approaches mandated are slightly different for companies in the midstream and downstream, at its most basic all companies are now expected to:

Map their cobalt supply chain
Identify suppliers and potential or actual responsible sourcing risks
Instigate corrective action where needed
Mitigate against potential responsible sourcing risks going-forward
"In addition to its normative value as an international standard, the OECD Guidance also sets out a
model supply chain policy listing serious risks that companies should be prepared to address. Incorporation of these model policies into a company's own supply chain policies should be considered a minimal expectation in terms of compliance with international standards."
Amnesty International 'Time to Recharge' November 2017.  
Report recommendations
The report maps out recommendations for action at the national and local government level (Democratic Republic of Congo (DRC); People's Republic of China; Respective "Home States" where downstream businesses are based/listed) and at the multilateral level (OECD; International Conference on the Great Lakes Region (ICGLR)).
At the company level several key recommended actions are also listed, these are categorised dependent on a company's status and supply chain position. However, overall the report states that all companies should now:

Conduct supply chain due diligence for cobalt and other minerals and publicly disclose their due diligence policies and practices
Reject the use of certificates of origin as sole proof of origin for the purposes of determining whether enhanced risk assessment is required
Take remedial action, in cooperation with
other relevant actors, if human rights abuses have occurred at any point in a supply chain relationship.
Take action to develop rechargeable batteries that are ethically mined, manufactured and recycled.
How to respond to growing scrutiny and emerging industry and regulatory compliance
Map your supply chain and identify the suppliers in your cobalt supply chain
Highlight potential responsible sourcing risks and begin corrective action
Demonstrate good practice through reporting
Develop an on-going Due Diligence Program to mitigate against future risks and deliver positive change through your cobalt supply chain
RCS Global are supporting several downstream and midstream businesses to complete phases one to three in this process before pivoting to proactive Due Diligence Program Development.
We have an established approach to this work which can be tailored to either downstream or midstream businesses and to the individual needs of a specific company.
In addition to program delivery, we are also in a position to support businesses on engaging with every key industry and regulatory body to ensure compliance and good proactive.
Our expertise in responsible cobalt and wider battery metals also allows as to support businesses in moving beyond good practice towards an industry-leadership position in responsible sourcing.
For more information on our approach to responsible cobalt or to learn how we may be able to support your business in improving its supply chain contact us on the website here or speak to our head of Insight and Outreach directly by emailing sam@rcsglobal.com
Read our cobalt sourcing report here: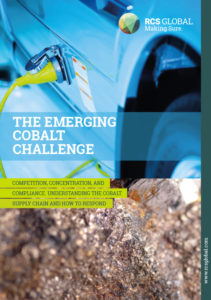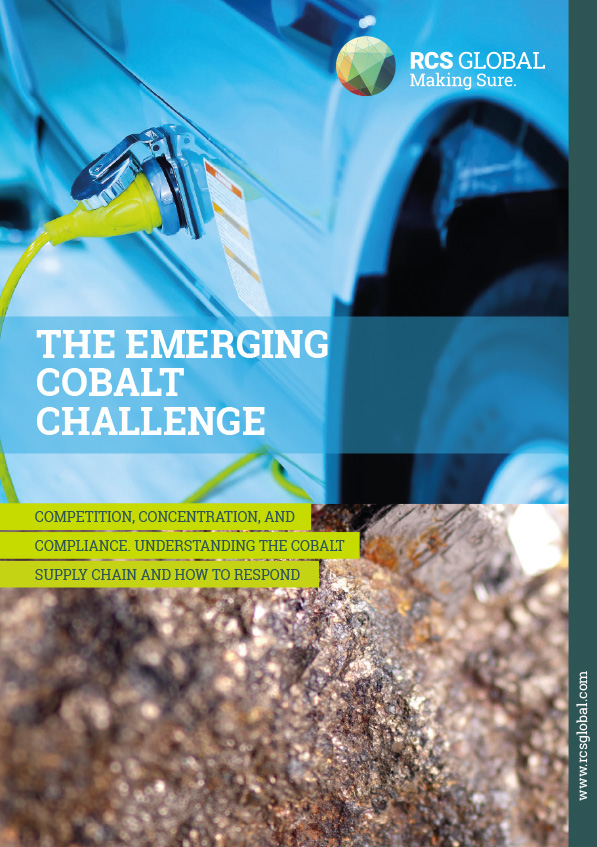 Learn more about our battery metal research and risk monitoring here: